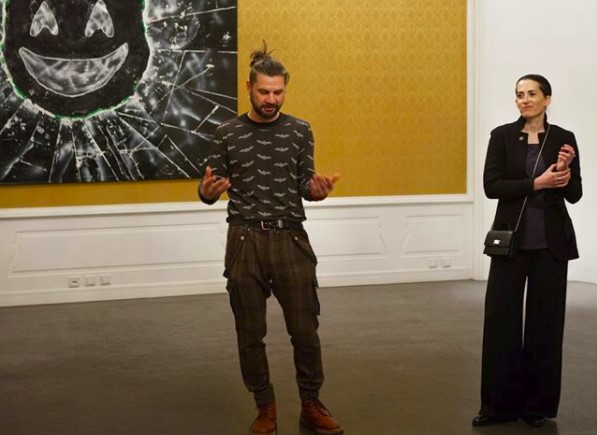 MATEJ FABIAN was born in 1979 in Banský Bystrica.
EDUCATION
2011- 2014
Postgradual education, Academy of Fine and Applied Arts, Bratislava, Department of Drawing, Doc. Bubán
2005- 2011
Academy of Fine and Applied Arts, Bratislava, Department of Painting, Studio IV., Prof. Ivan Csudai
1995 – 1996
Crested Butte Academy, Crested Butte,Colorado, USA
AWARDS
2014 VÚB Prize for Painting – 2. place

2014 finalist, NOVUM Art Award
2013 finalist, VÚB Prize for Painting 2013
2012 finalist, VÚB Prize for Painting 2012
2011 finalist, VÚB Prize for Painting 2011
2010 HENKEL Art Award, Nomination for Slovak republic
Ceteris paribus (lat. at the same other or whereas the other stays the same) is a latin expression, which assumes that all other conditions or circumstances other than those we are dealing with remain unchanged.
This rule can be successfully applied to the work of Matej Fabian (1979) – painting remains an unchanging constant in his artistic expression. Its basic parameters – colors, brushes and canvas are irreplaceable with regard to postmedial resources and this is a fact that the author is very well aware of. The search for a balance between the traditionality of the media and the claims of the present artistic era is a point to which it has headed in the last few years. Testing the boundaries of painting by exploring non-traditional materials and mats eventually led to the realization that what, despite any possible reduction, inevitably remains the painting essence, is work with color – its mass, its optical properties, its quality, or its poor quality …
Painting as a classical and seemingly overcome medium Fabian perceives as a possible opposition to the fragmentation of our view of the world that has continually blurred the information cloud. The physical presence of the painting and its frequent interconnection with the object's medium is its direct response to the virtues of today. The result is a fluid flow from one medium to another medium, a sustained effort to climb out of the traditional frame. For the author, the painting then becomes an object, and also a three dimensional object is primarily painting …. The image is not only supposed to hang on the wall, but it is anchored in the space to which it reacts.
Significant variable in our case is also represented by the author himself, especially if he works intuitively and deliberately attempts to disrupt his own or generally verified practices. Fabian perceives his position as a predator – he is convinced that it is his duty to attack author's strategies, market mechanisms, used handwriting, mental settings, and to overcome his own painting shadow. The result of his effort is a radical program, manifested across various media as a coherent network, denouncing rather the whole or the artist himself than the individual artifacts ….
Nina Gažovičová