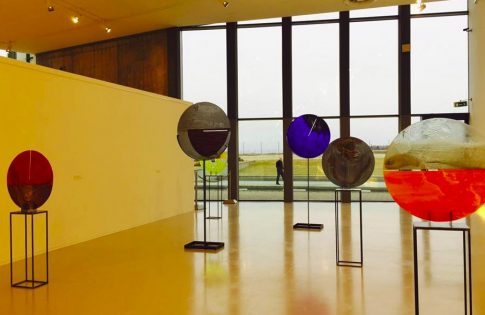 Palo Macho was born in1965 in Streženice.
In 1980-1983 he studied at SOU glassworks, from 1983 to 1986 at SUPŠ glassworks, from 1989 – 1995 at VŠVU in Bratislava, at the same time in 1993 at the Ecole des Beaux-Arts in Saint-Etienne, France, and then in 1997 at the Cité International des Arts in Paris.

From 1994 to 1998 he worked as a teacher at the Secondary School of Applied Arts in Lednické Rovne.
The author has exhibited at both, independent and joint exhibitions in approximately twenty countries during his artistic years. Let us not only mention Slovakia and the neighboring Czech Republic but also Austria, Hungary and Germany, Italy, France, the Netherlands, Sweden, Norway, Finland, Turkey, as well as Russia, Japan or the USA.
In 1998, the film "Sklenné obrazy" (Glass images) was shot about his work, and two poetry collections were published in Bratislava called Shooting Prayers (1995) and Moon on Red (2006)
Palo Macho, besides his work, has spent nearly 14 years working with Slovak artists performing in different disciplines of fine arts, this cooperation based on the common idea of ​​two authors resulted in remarkable art works.
The excellence of Palo Macho's collaboration with other artists lies in the fact that he is always trying to find the conjunction between his own style of art and the style of the author with whom he cooperates.
Each such "partnership" is based on other principles and rules, the essential fact being that the works produced are interesting by their internal coherence and meaningfulness. The resulting works never appear scratchy, even though Macho collaborates with sculptors or photographers, and the presence of both artists in the works is clearly identifiable.
The works exhibited at the Zoya Museum are a selection of the collaboration of Palo Macho and Jozef Jankovič, photographer Jana Hojstričová, painters Rudolf Filo, Ivan Csudai, Laco Terén, conceptual artist Svätopluk Mikyt and, last but not least, the author of the modern art Ľudovít Fulla, where he was inspired by motifs and fragments from his images.
The exhibition at ZOYA Museum Gallery will be held until 18.6.2017. It is open from public from Wednesday to Saturday from 11:30 and 22:00 and on Sundays until 6:30 pm. You are warmly welcome!